Travel & Housing
In order to control costs and provide accurate housing availability, it is required that you
complete your PDI Registration prior to making housing reservations.
Once you register for PDI 2023, you will receive a confirmation email. Included in that email will be a link to make hotel reservations.
Please note: ASMC's housing provider is IMN Solutions.
Venue
PDI 2023 will take place at
America's Convention Center in St. Louis, MO
.
701 Convention Plaza, Suite 300
St. Louis, MO 63101
Visit Website
The Convention Center is located in downtown St. Louis.
Hotel Accommodations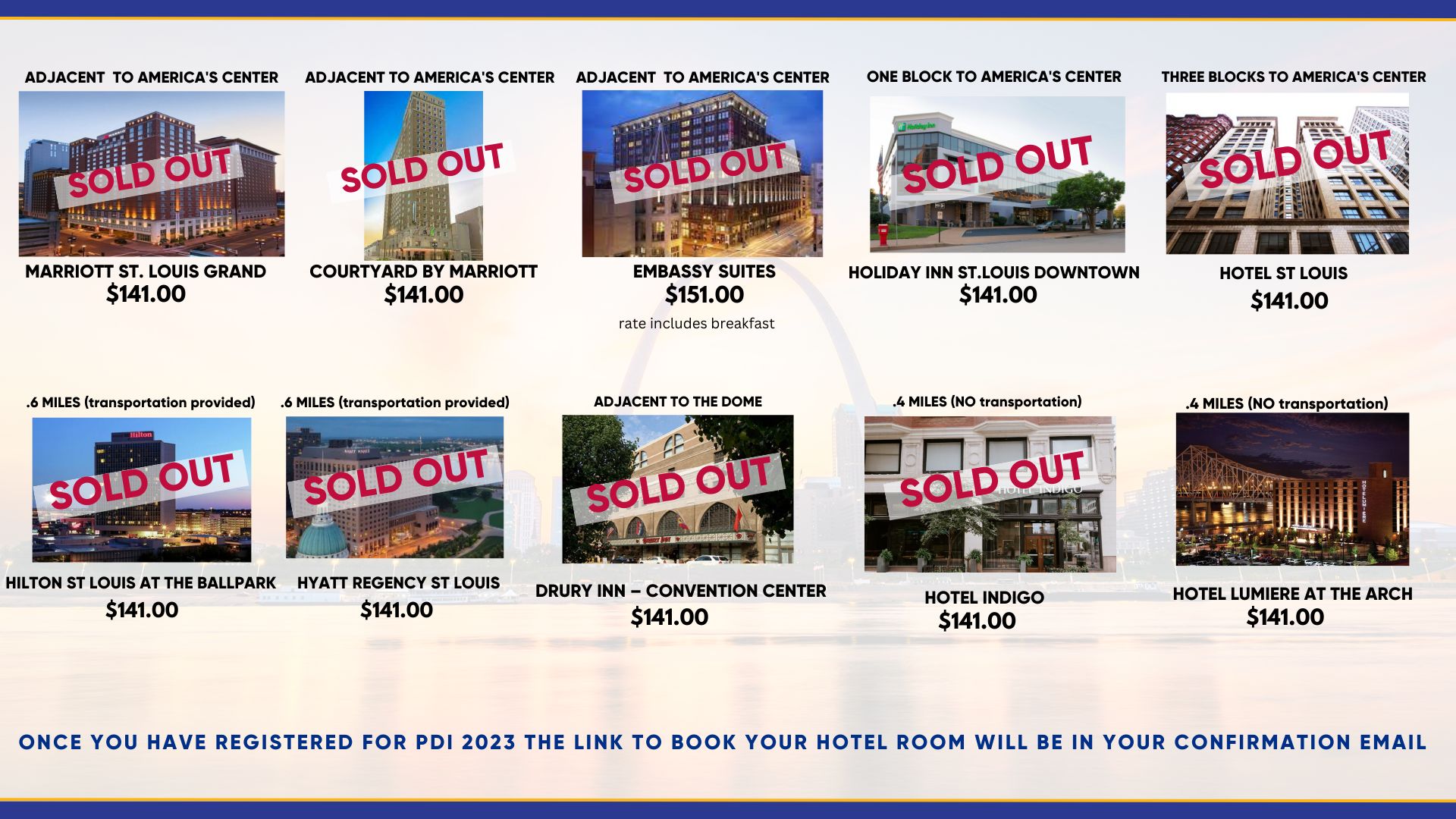 Terms and Conditions/ Cancellation Policy
Reservations cancelled after April 17, 2023, will be subject to a $50 processing fee. Rooms cancelled less than 48 hours prior to arrival date will be charged a $50 processing fee and a hotel penalty of one night's room and tax.
Through April 17, 2023, changes and cancellations can be made online or by contacting IMN Solutions via email at
asmchousing@imnsolutions.com
. If notice of cancellation is received by IMN Solutions before April 17, 2023, there will be no charge to the credit card for cancellation. A cancellation occurring between April 17, and the arrival date will be charged a $50 processing fee.
Individuals making reservations may secure their reservation by providing a credit card that will be placed on file in order to hold the reservation. This credit card will not be charged unless a cancellation occurs under the terms of the cancellation policy.
A credit card must be provided at check-in and guests are responsible for their own room, tax, incidental and personal charges upon check-out.
Tax Exemption ​for Hotel Rooms
Military personnel are exempt from sales and use tax and the state hotel-motel fee here in Missouri. The employee must provide an ST-5 Certificate of Exemption. Payment provided must be made with a centrally billed (CBA) payment card.
Download the Form Here
For more information, click
here
.
Per Diem Information
All official ASMC hotels (with the exception of the Embassy which includes breakfast) are within per diem for single rooms. Lodging per diem in St. Louis for June 2023 is $141 per night, with M&IE per diem set at $64. Meals included in the registration fee are breakfast (Wednesday-Friday), lunch (Wednesday-Friday) and the exhibit reception on Wednesday (light appetizers) and our 75th Anniversary event on Thursday (dinner type food). For more information on per diem, travel regulations, and tax exemption, visit
https://www.gsa.gov/travel/plan-book/per-diem-rates
.
Special Needs Assistance
If you require special assistance in accordance with the Americans with Disabilities Act, please contact
education@asmconline.org
(All special needs requests are due by
April 28, 2023
to guarantee accommodations can be met).
If you have any questions about
PDI 2023
please reach out to our Education Team at
education@asmconline.org
.