ASMC's CDFM
CDFM TESTING at PDI 2023
Testing Eligibility
You must be actively enrolled in the CDFM Program at the time of testing.
Check Enrollment Status
Log on to your ASMC account
and click on "Update Profile" to view your "Enrollment Expires" date. If there is no date showing or if your enrollment has expired, enroll or
extend your enrollment in the CDFM Program
.
If your enrollment will expire before your testing date or if you are CDFM certified and would like to take the Module 4 Acquisition exam, please contact the Certification Department for assistance.
The
CDFM Candidate Handbook
is a critical resource for exam preparation. Get a free copy and learn more about CDFM Certification by clicking the Candidate Handbook image on the right of the screen.
If you have questions before PDI, contact us at certification@asmconline.org or (703) 549-0360
.
Onsite at PDI, come see us at the CDFM Table near room 253 for assistance.
Testing Reservations
We are offering onsite paper-and-pencil testing with results sent in 24 hours or less. PDI 2023 testing reservations can be made when registering for PDI. If you have already registered for the conference and would like to add an exam to your registration, follow the directions to your attendee portal via your PDI confirmation email. Exam purchase required ($99 each exam). For exam registration assistance before PDI, contact eventPower at
ASMC@support.eventPower.com
or
asmc@eventpower.zendesk.com
. For onsite assistance, go to Registration or the CDFM Table near room 253.
Changing Testing Reservation at PDI
You can change the module and testing appointment after purchase (by following the directions to your attendee portal via your PDI confirmation email), but the exam(s) can only be taken at PDI 2023. All 4 CDFM module exams are available and can be taken in any order. More than one exam can be taken on the same day, but only one exam can be taken per testing session. Note: The retake waiting period is 14 days for a first retake and 28 days for additional retakes of the same module.
Exam Expiration
PDI 2023 exam fees are
non-refundable
and can only be used at PDI 2023. If you do not show up for your testing appointment and do not reschedule and take it by the last available testing session at PDI 2023, your exam fee will be forfeited.
Exam Authorization Conversion
If you have an unused Pearson VUE exam authorization that you would like to use at PDI, please contact the Certification Department at
certification@asmconline.org
or
(703) 549-0360
for assistance.
Testing Sessions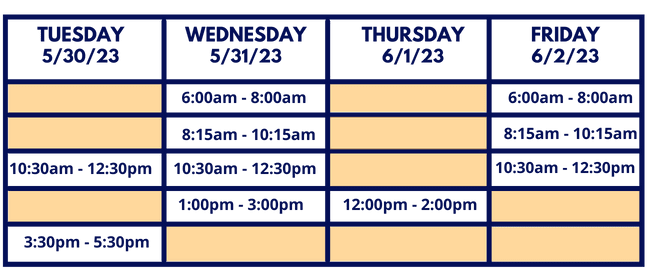 CDFM Study Room: 360
The CDFM Study Room provides a place for testing candidates to review their study materials in a quiet space away from the PDI hustle and bustle. As such, please mute your cell phone and refrain from talking in the study room​.
CDFM Testing Room: 370
Please show up outside the testing room 10-15 minutes before your testing start time with a valid, government-issued, photo ID. All personal items, including study materials, jackets, purses, smartwatches, and cell phones (turned off) must be placed against the testing room wall. No cell phone or calculator use is allowed in the testing room.
CDFM Reception
Those who earn the CDFM at PDI are invited to attend the CDFM Reception. We recommend submitting your VFME form before attending PDI, so passing the exams is the last of the requirements.
OUSD-C Now Accepts the CDFM as an Alternative to DFMCP Certification
For more information, click
here
.